A Book Review by David Goodman
Title: 2 x 4 Projects for Outdoor Living

Authors: Stevie Henderson and Mark Baldwin

Published by: Sterling Publishing Co. Inc.
387 Park Avenue South
New York, NY 10016-8810
ISBN 1579901646
Price Hardcover: $24.95 (Canada $31.95 )
ISBN 1579902219
Price Softcover: $14.95 (Canada $21.95 )
128 color pages

---
Having spent most of my woodworking life (18 mos.) making things for indoors (i.e. - blanket chests, jewelry boxes, tables, etc) it was time to focus on outdoors. Given the chance to review '2x4 Projects for Outdoor Living' provided that opportunity. The book begins with an introduction that covers materials, tools, various joinery techniques, and finishes. Most of these are for outdoor construction, but may be used for all woodworking.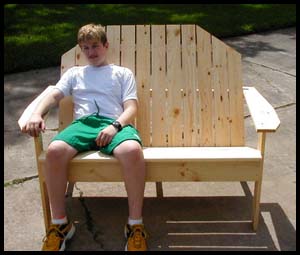 Each of the following 21 chapters deal with a specific project. Some of these include a birdhouse, lawn chair, adirondack sofa, picnic table, planter box, trellis, deck, and a lot more. Each project has a materials list, hardware list, and a cutting list. In some cases, a special tools list is provided. What I like are the color photos of the completed project. These provide an excellent reference where sometimes the detailed instructions are a little vague.
My 13 year old son and I built the adirondack sofa for a Mother's Day present. The overall piece turned out very nice. We both got lost several times in the instructions, but were able to eventually figure it out. What I liked best about the project (besides the father/son bonding time) was that all lumber came from the "big box" and required no milling. This is true for all the provided projects. Total time for the project was about 7 hours.
I would recommend this book for those who enjoy hanging out in the backyard or for those who sometimes need to get away from the precision of "fine woodworking". Projects in this book will also provide a relatively inexpensive, quick present for those forgotten occasions.
Thanks,
David Goodman

Editor's Note: Sterling Publishing has graciously donated several books for review which are passed on to our members free of charge in exchange for thoughtful, honest reviews. Thank You! And you can usually find their titles at a discount from Barnes And Noble