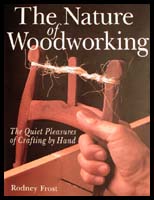 A Book Review by Bill Odom
Title: The Nature of Woodworking
Author: Rodney Frost

Published by: Sterling Publishing Co. Inc.
387 Park Avenue South
New York, NY 10016-8810
ISBN 0806949929
Price Softcover: $17.95 (Canada $25.95 )
144 color pages

---
The Nature of Woodworking : the quiet pleasures of crafting by hand. Or, as it could be called: "Zen and the Art of Woodworking."
This is the sort of book that makes a good present. It's not a shop manual or a detailed description of how to make a highboy. Instead, it is a leisurely read on everything from how to hold a saw or pull out a nail, to making your own knife or rocking chair.
Mr. Frost does not believe that learning occurs by reading from A to B to C, but by finding your interest and then exploring it in more detail. It is for this reason that the book is written in more of a coffee table design: it is meant to be perused, not read from cover to cover. Being an A to C type person I could have struggled with this book, but Mr. Frost does the reader a service by starting the book with a description of how it is intended to be read:
Here is a book that tells you about quiet woodworking - working outside in the air of your backyard, cottage, or apartment balcony. Quiet woodworking is done with hand tools, calmly and thoughtfully at your own speed. It is not "technical" and you don't have to own a woodlot or a mule...
I'd like you to treat the book the same as a visit with me. Browse a bit. Wander through the pages and back. If something catches your eye - look at it some more. If you need extra information, read what is written near it. Maybe it will tell you.
It should be made clear that "The Nature of Woodworking" is not meant for the professional (or even serious amateur) woodworker. It has been designed for the person who is interested in learning about woodworking but who has probably used their crosscut saw to trim tree branches or is guilty of using a chisel to open a can of paint.
The book begins by giving simple descriptions of the more common tools used in woodworking and then moves on to easy projects that can be built with these tools (e.g. a box, and a weathercock). As you progress through the book you will learn about less common tools (few non-woodworkers know about "spokeshaves") and be exposed to more complex projects.
There are very few photographs in the book. The images in the book (and there are a lot of them) are mostly color drawings. This dovetails nicely with the expected entry-level woodworking reader as the softness of the images make the tools and projects feel less threatening and easier to use and build. Very few tool brands are recommended and in many cases Mr. Frost suggests inexpensive ways of finding or creating your own tools.
While this book is not meant for professional woodworkers, it is a good book to give to their friends and family: not so that they can actually build a "Front Porch Pest Scarer" or "Sloop Sleigh," but so that they can get a feel for what's involved in making a plan, selecting wood, and building something with your own hands. This book is much more about the journey of woodworking than the destination.
It should be pointed out that even though I am not the target audience for this book, I enjoyed reading it (sorry, skipping around from place to place). A lot of this has to do with Mr. Frost's writing style. Instead of feeling like you're sitting in a classroom listening to a lecture, you feel like you've just walked up his driveway and stopped by for a little chat. When something gathers your interest, you stop, take a look, and talk for a while so he can explain how to build it. You're free to borrow his tools and get to work, or wander around a bit more before settling down to the project at hand. He even has words for you if you get frustrated: "Take a rest, relax, get up, walk around, see what's for dinner, go away, never come back - it's your life."
Most people will keep coming back to this book because of Mr. Frost's refreshing attitude towards woodworking and life.
Bill Odom
Editor's Note: Sterling Publishing has graciously donated several books for review which are passed on to our members free of charge in exchange for thoughtful, honest reviews. Thank You! And you can usually find their titles at a discount from Barnes And Noble