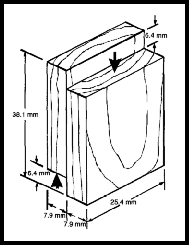 STRENGTH AND DURABILITY OF ONE-PART
POLYURETHANE ADHESIVE BONDS TO WOOD
by
CHARLES B. VICK
E. ARNOLD OKKONEN
This article compares the strength and durability between four polyurethane glues and a test sample of resorcinol glue. Unfortunately the Forest Products Laboratory didn't reveal the names of the manufacturers of the poly glues. Despite this, the results are significant to those concerned about using these adhesives.
We haven't prepared the whole article for the Web - only installed the Abstract with permission from the authors and linked to the PDF (Portable Document Format) file on FPL's server. To read about the test procedures, you need to have Adobe Acrobat Reader installed on your computer, either as a plug-in for your browser or as a separate program. You can download Acrobat Reader for free from Adobe's website.
The experiments themselves are very technical and might be a bit much for some folks. For an idea on what information they contain, we've copied the abstract below. If after reading the abstract and you download the whole article, you can skip the Abstract on the first page of the article - it reads the same.
---

ABSTRACT
One-part polyurethane wood adhesives comprise a new class of general purpose consumer products. Manufacturers' claims of waterproof bonds brought many inquiries to the Forest Products Laboratory (FPL) from users constructing aircraft, boats, lawn furniture, and other laminated materials for outdoor use.
Although FPL has technical information on several types of polyurethane and isocyanate-based adhesives for wood, no information was available on this new class of adhesives. Four commercial polyure-thane adhesives, along with a resorcinol-formaldehyde adhesive to represent a standard of performance, were subjected to a series of industry-accepted tests that assess varying levels of bond strength and durability.
In bonds to yellow birch and Douglas-fir, the polyurethanes did not differ significantly from each other in their performance; as a group, though, their dry shear strengths showed that they were significantly stronger than the resorcinol. Dry wood failures by the polyurethanes were high and did not differ significantly from the resorcinol.
After three water-saturating procedures, wet shear strengths of polyurethanes and the resorcinol were statistically comparable. Wet wood failures, however, were very low among polyurethanes, which is a sharp contrast to the high wood failure by the resorcinol.
A moderately severe delamination test indicated varying levels of water resistance among the polyurethanes, but the resorcinol was completely resistant to delamination. A very severe cyclic delamination test caused severe delamination of polyurethane bonds. However, a recently discovered hy-droxymethylated resorcinol (HMR) coupling agent dramatically increased delamination resistance of polyurethane adhesives. In a test of resistance to deformation under static loads, polyurethane bonds withstood extreme exposures of temperature and relative humidity for 60 days without deformation.
---
Download this article as a PDF file. (105K)