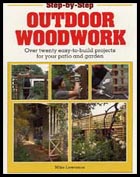 A Book Review: by John F. Knott III
Title: Step-by-Step Outdoor Woodwork
Author: Mike Lawrence
Published by Sterling Publishing Company, Inc.
387 Park Avenue South
New York, NY 10016-8810
ISBN: 185368225X Softcover $15.95 (Can. $21.95)

---
"Honey, my roses are all over the yard, I guess I'll have to go to the nursery to buy a trellis!" That's the hint that we need to be building more than bookcases, gun-racks, and various storage devices in our shops, and Step-by-Step Outdoor Woodwork is just the book to guide us down that garden path! This book contains more than twenty different projects for gardens, patios, and yards.
Step-by-Step Outdoor Woodwork, by Mike Lawrence, has 96 pages full of beautifully detailed photographs of a variety of outdoor projects to help you get your yard into Better Homes & Gardens®, or at least be the envy of the neighborhood. Projects covered in this book range from simple bird feeders, all the way to elaborate decks (with furniture) and covered walkways leading to gazebos.
Quite possibly the most difficult decisions will be what project to start with as they are all presented in a manner to appeal to anyone who enjoys their outdoor space. Step-by-Step Outdoor Woodwork is your own landscape specialist always ready to advise and assist in these decisions.
Once you have decided on the project, or projects, to fit your desires you will find that all projects covered in this book are broken down into sections to assist in choosing the proper materials, assuring you have the right tools at hand. Also included are detailed cutting and assembly steps and how best to finish and maintain your completed project. The instructions are laid out in an easy to understand and follow format that will guide the beginner without insulting a seasoned woodworker.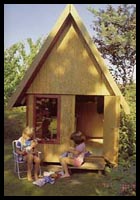 There are projects for the whole family, including the kids, with instructions for playhouses and tree forts. Step-by-Step Outdoor Woodwork should satisfy any patio and garden project needs. Spring is here and this book will be a welcome addition to the seasonal planning.
Step-by-Step Outdoor Woodwork is a great way to help solve those design and layout questions we all face when we get tired of the same old yard! Besides, what better way to get out of digging a hole for the "flowering indonesian whatchamacallit" than to be in the shop building that redwood arbor for the pergola...that's helping in the garden....isn't it ?
John F. Knott III, aka. Woodman
Editor's Note: Sterling Publishing has graciously donated several books for review which are passed on to our members free of charge. Thank You!