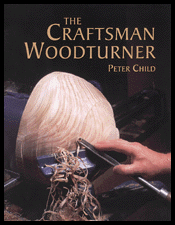 A Book Review by Paul Johnson

---
Title:
The Craftsman Woodturner (1997 edition)
Authors:
Peter Child (Revised and with forward by Roy Child)
Publisher:
Guild of Master Craftsman Publications Ltd.
Available through:
Sterling Publishing Company, Inc.
387 Park Avenue South
New York, NY 10016-8810
ISBN 1 86108 075 1 PRICE: $17.95 (24.95 Can.) Softcover
I found The Craftsman Woodturner a very enjoyable read. When I was first offered the book to review I thought "Well, it might have some project ideas". It has that, and more. The author takes you through each aspect of woodturning in a very thorough manner. Including how to stand when performing each operation.
The book has three sections. The first section starts with the basics. A short history (and types) of lathes. And then progresses through some of the operations which can be performed on a wood lathe. Drilling, bowl turning, plates, turning between centers, chucks, tools, and safety are all covered.
The second section has over a dozen projects. Also included are chapters on turning duplicate parts, decorative wood burning, and turning laminated or checkered pieces. The last chapter of this section is titled "Variations on Turnery", and has short descriptions of turning oval pieces, cabriole legs, and split turning.
The third section is mostly advice on such things as which species are used for turning, turning unseasoned logs, and how to make money with your lathe.
While some of the information seems dated, (It was first published in 1971) most of it is grand advice from a past master of the woodturning art. Sharpening, for example - an integral part of woodworking, yet far too few woodworkers are really proficient at it. (Including myself) Mr. Child explains how each of the tools he teaches you to use should be maintained. Among the updated parts is a chapter on health and safety.
And so we come to the end of my ramblings. Let me just say in closing that I would recommend this book to any woodturner, be he novice or an "old galoot".
Respectfully submitted by:
Paul Johnson
Editor's Note: Sterling Publishing has graciously donated several books for review which are passed on to our members free of charge. Thank You!