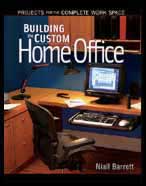 A Book Review by Mike Egan
Title: Building The Custom Home Office

Author: Niall Barrett

Published by: Taunton Press
P.O. Box 5506
Newtown, CT 06470-5506
ISBN 1-56158-421-5
Price Softcover: $19.95
176 color pages

---
I found this an extraordinarily well-organized book. Equally important, it is a beautiful book in the physical sense with strong solid binding, high quality paper and outstanding color presentations of office furniture and equipment as well as woodworking plans for the various projects .
The book is divided into two distinct sections. The first concerns itself with the physical layout of the office space as well as the equipment (computers, printers, telecommunications, lighting, furniture, etc.) normally found in today's high tech work environment. It is the construction of the furniture components shown (drawers, cabinets, shelving, desktops and computer workstation) which constitute the second and, for a woodworker, the most interesting portion of the book.
The plans for various types of furniture (see above) are beautifully rendered and each contains a precise cutting list. Each project also contains very helpful color photos illustrating various elements in the construction process. Also very helpful, especially to the less experienced woodworker such as myself, were the tips and techniques indicated in professional quality drawings throughout each project. I think it is important to mention that some of the work pieces are quite large so space in your workplace is a significant consideration. So too are the number of tools required. They include: Router, Contractor Grade Table Saw, Circular Saw, an extensive set of quality clamps, Biscuit Joiner and Band Saw along with the normal complement of drills, sanders, saws, etc.
This is an excellent book; well conceived and beautifully executed. Having said that, I can't help but wonder how large a market there can be for the material. Granted, the use of and need for Home Offices has grown enormously in recent years. I wonder however how many of those who might need or want a work related area at home have the space, time, money, expertise and pre-existing workshop with all the required tools necessary to utilize the excellent information provided.
My thought is that a buyer would have to be a fairly experienced woodworker with a fully operational workshop already in place. Such a person would consider this book only if they were considering starting a new business and in that case I think they should be concentrating their efforts on generating customers/clients and income rather than building office furniture. While the quality would be much higher and the costs possibly significantly lower, I think the loss of time and focus, particularly in the start-up stage, would be a poor trade off. I know this is an over simplification, but I still don't see a large enough market, despite the very high quality of the product, to make this a money- maker for Taunton Press.
Mike Egan

Editor's Note: The Taunton Press has graciously donated several books for review which are passed on to our members free of charge in exchange for thoughtful, honest reviews. Here is the link to their page on this book. And you can usually find their titles at a discount from Barnes And Noble