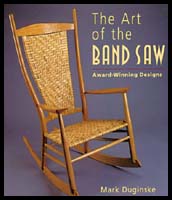 A Book Review by Robin Glembotzky
Title: The Art of the Band Saw

Author: Mark Duginske

Published by: Sterling Publishing Co. Inc.
387 Park Avenue South
New York, NY 10016-8810
ISBN 0806938919
Price Softcover: $19.95
144 color pages.

---
The front of this book shows a rocking chair and with that, the promise of what can be created by the band saw. Most of us think of curves and slicing veneers when we think of working with the band saw. This book shows there is so much more to be accomplished by this piece of equipment. In addition, many of these things are well within our abilities, given the proper instruction.
And instruction is what this book is about. The first half of it discusses the ordinary things you would find in a band saw book. We learn about the basic parts of the band saw. Safety is stressed and not given a cursory glance, which so often happens. How to insure that your band saw is set up properly is covered in depth, as is the selection of blades for different types of work.
Just when you are anxious to get going, Mark starts in with cutting. He begins with the curved cut, and teaches how to make a Cabriole leg. He walks you through the points with detailed illustrations and easy to understand instructions. Following the instructions, the reader is left with a Cabriole leg, something she may not have thought she could possibly do!
The next chapter discusses straight cuts. Most people do not think of using the band saw to make a straight cut, but it is often easier and safer than using a radial arm saw or table saw. He discusses ripping, resawing and bookmatching. These are all done with a fence. Mark, also, discusses sawing by eye, especially when you have that great log of cherry and want to get as much out of it as possible. There is a chapter on patterns and templates, when to use and how to use them. And what woodworking book would be complete without a chapter on jigs and fixtures? The last chapter for the first half of the book is on joinery, showing how to cut tenons and dovetails, something many of us would not think of using the band saw for.
Chapter 9 comprises almost half the book and contains 21 artists' projects. Each one has a pattern and easy to follow directions. A picture of the completed project, as well as a description accompanies the design. The type of wood is suggested as well as type of finish. Some, like the evergreen tree, are straightforward and can be completed rather quickly. Others, like the Oak Arts and Crafts Chair require more time and effort.
The last chapter is titled the Artists' Gallery. It is comprised of over 30 pieces of work from various artists. Dimensions are given as well as the type of wood of each creation. It is meant to invoke admiration and create a spark of inspiration in all that view them.
This book is a must have for the person who wants to get the best they can out of their band saw. If you thought it was just for resawing or cutting a few curves, this book will teach you that it is so much more.
Robin Glembotzky
Editor's Note: Sterling Publishing has graciously donated several books for review which are passed on to our members free of charge in exchange for thoughtful, honest reviews. Thank You! And you can usually find their titles at a discount from Barnes And Noble