Tool Review: Rockler Mini Drill-Press Table
By Louis V. Dalessio Sr.
This is my first attempt at doing a tool review so let me not forget my manners. Thanks to the folks at Rockler Woodworking & Hardware - I was very impressed with the quality of service I received. The product came with a broken T-Knob but this was taken care of by a quick email to Jim Mattson, and he contacted Steve Krohmer (VP of Merchandising) at Rockler who had Jim Frey, their tool product manager ship a replacement part ASAP. Even though I didn't mean to test the support system, it's nice to know it works smoothly.
I'm excited about this product - the "Mini Drill Press Table" (#24616 for $69.99) In fact, the folks at Rockler shipped it by UPS completely assembled for me to do this review. Don't we all wish tools came completely assembled? Anyway, I did some trial runs using my new "Mini-Drill Press Table". Being mostly a work alone person, I enjoyed the fact this product made my drill press work a little bit safer and easier.
This jig features a large 11 5/8 x 23 5/8 table. Included are 2 T-tracks inlaid into the work surface to accomodate the hold down clamps and 2-part fence. I liked the 2-part fence mostly because it was not only adjustable, it allowed me to use one or both sides while I sanded or drilled. It was easy to break it down and set it up with little or no effort.
The fence has it's own t-slot for attaching a sold oak stop block and easy-to-turn thumb knob. These came as part of the Drill Press Accessory Kit ( 23958 $19.99 ) Also included were table and fence clamps. These items are a must for the do-it-yourselfer or professional. Removing the Mini Table for storage was easy but personally I plan to let it remain on the drill press.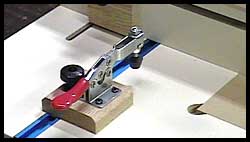 I got some very good results with my Mini Table and Adjustable Fence. I was able to drill my oak strap basket handles perfectly each time. The table, fence and stop block remained perfectly in line. I also found the adjustable fence made using my sanding spindles a pleasure. The fence held the stock firmly and safely in place while I sanded the small oak handle parts. The Mini-Table's adjustable fence made quick work of these every day simple projects. More importantly, it did it safely.
An area of improvement could be the back of the Mini Table. It has rounded corners; I feel it would look better squared off. Other wise the table is a very fair value at $69.99 and the accessory kit at $19.99 is a must have for the shop. I rate this tool a must have in any professionals workshop.
Great tool, great price and superior customer service - I'm a new fan of Rockler Woodworking & Tools. I see that Rockler now sells a router table similar to the Mini Table and it will definitely be on by list for the next tool to buy. If anyone has any questions or comments please feel free to contact me at Lou@woodshop.net
Thank you
Louis V. Dalessio Sr.
For more information, you can click over to Rockler's website.