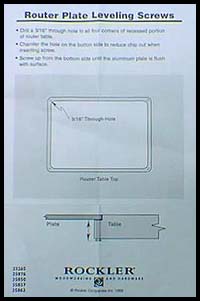 The only instructions that came with the unit was a piece of paper explaining where to drill for the leveling screws (pic 6). I had to come up with a template in order to mount the plate properly. However, speaking to Steve again he said a template would be available in the fall.
The leveling screws are a nice feature, however, I would have preferred each corner of the plate be drilled and tapped for a set screw. I think it would be easier to level the plate.
Overall, I think the people at Rockler have developed a very fine product. I was very pleased with it and wouldn't hesitate recommending it to others. I would wait for the newer version with the starting pin and get the template for it when available.
Afrim Hoxha
For more information about Rockler's router table insert, you can access their webpage by clicking here.