I have my first lot up for sale at the Steel Art Gallery in Morral NE.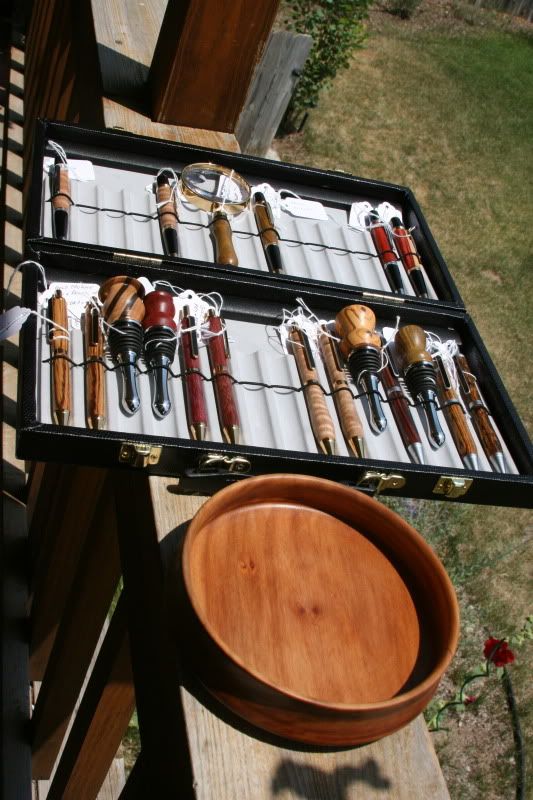 14 pen and pencils, a magnifying glass, 4 bottle stoppers and one bowl.
The bowl is willow and I just finished it this week. I screwed up the bottom and had to cut a second, deeper, recess for the chuck to grab on to which makes for a really thick bottom around the outer edges. I plan to turn 3 more soon, all smaller than this one, from Coyote wood, Chechean, and Orange Osage.
The pens and pencils: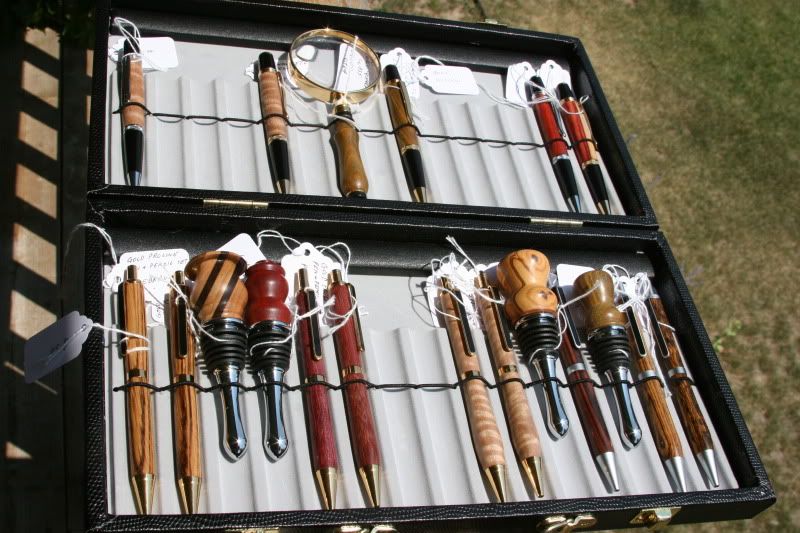 The top row are Wall Street 2 pens and from left, are:
2 Curly Pyinma pens
Magnifying glass and pen from Lignum Vitea
Red Heart
Tulip wood.
The lower are Pro-line pens and pencils and chrome bottle stoppers, from left:
Pen and pencil in Zebrawood
Bottle stopper from Maple/Walnut, (This was a cutoff from a series of laminated boxes I'd made for Christmas gifts several years ago. I cut it on an angle and turned it).
Bottle stopper from Red Heart
Pen and pencil set from Purple Heart
Pen and Pencil set from Curly Pyinma
Bottle stopper from Olive wood
Pen from Kingwood
Bottle stopper from Lignum Vitea
and last is a pen and pencil set from Bocote.
As some of you may recall, I'm allergic to the Bocote. I've worked it before and found that my face was suseptable to the oil in the wood. So I used my Trend face shield/ventalator, and was sure to wash my hands after working it and thinking I'd be safe as I'd done before. However, working in 100+ degree temps, my pores were much more open and I didn't take that into account. I now have a nasty rash around my wrist where the dust and shavings got caught beneath my watchband, and in the inside of my elbows and on my chest. I'm done, I'll never work with bocote again. Painful lesson learned.
I have no illusions that all of this will sell quickly, especially in such an out of the way place as Morril NE. Still, its nice to know that at least its out there where people can see it. Hope that at least a few will sell within the next 3 months. Wish me luck.
_________________
Frank
WWACOAUX#1
"I love the smell of Sawdust in the morning, it smells like, victory."
WWA'ers I've met: Popeye, Ed Avery, Stephen Wolf, Rockfish, Rodedon