... testosterone poisoning.
The remodel of our little camp trailer described in the scrap pile (Crash & Burn Project) required a transition between the original metal post support for the old round table to the underside of a rectangular table, made all the more complex since for some reason I had cut the tube off for some other use. So ... I've had this described to me but it's the first time I've ever tried it.
Here's the setup with some initial cuts -

See ""
That's a 2" thick piece of ash, about 5" wide and 22" long. There are a couple strips of scrap maple on the edges to eliminate tearout on the exit side. The 3"dia ash dowel is epoxied into a through hole. The dowel needed to be turned down to 2 1/4", the inside diameter of the tube.
Before anyone chimes, I don't advise anyone try this without considering the consequences of making a bad move working this close to a propeller.

See ""
In retrospect it would have been a lot less of an adrenaline rush if I'd glued up the blank to be square then bandsawed it into a circle. Live and learn.
Here's the finished product with two coats of waterborne Varathane: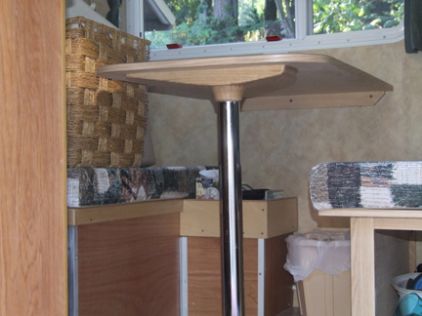 See ""
Unfortunately the original post fitting on the floor was off center to the benches which resulted in an interesting form following the function of the strut.
This is the finished galley.

See ""
And of course, after an evening by the campfire scarfing down hot dogs, s'mores, and a few fine ales, we need a place to retire -

See ""
It was a fun and challenging project.